ME AND MY MANHATTAN
As you may know for Fashion Week Manhattan opened a Pop Up Store in Berlin and for that occasion I collaborated with Manhattan to create my ME AND MANHATTAN: Berlin Fashion Week Look. My fashion week outfits were all very colorful. Inspired by my make up look from Day 2 I decided I wanted a look that kind of summed up my fashion week looks and go for something similar: something colorful with the attention on the eyes matching to my outfit.
It's definitely not an everyday make up look, which makes it so special. And I couldn't be more happy with the outcome.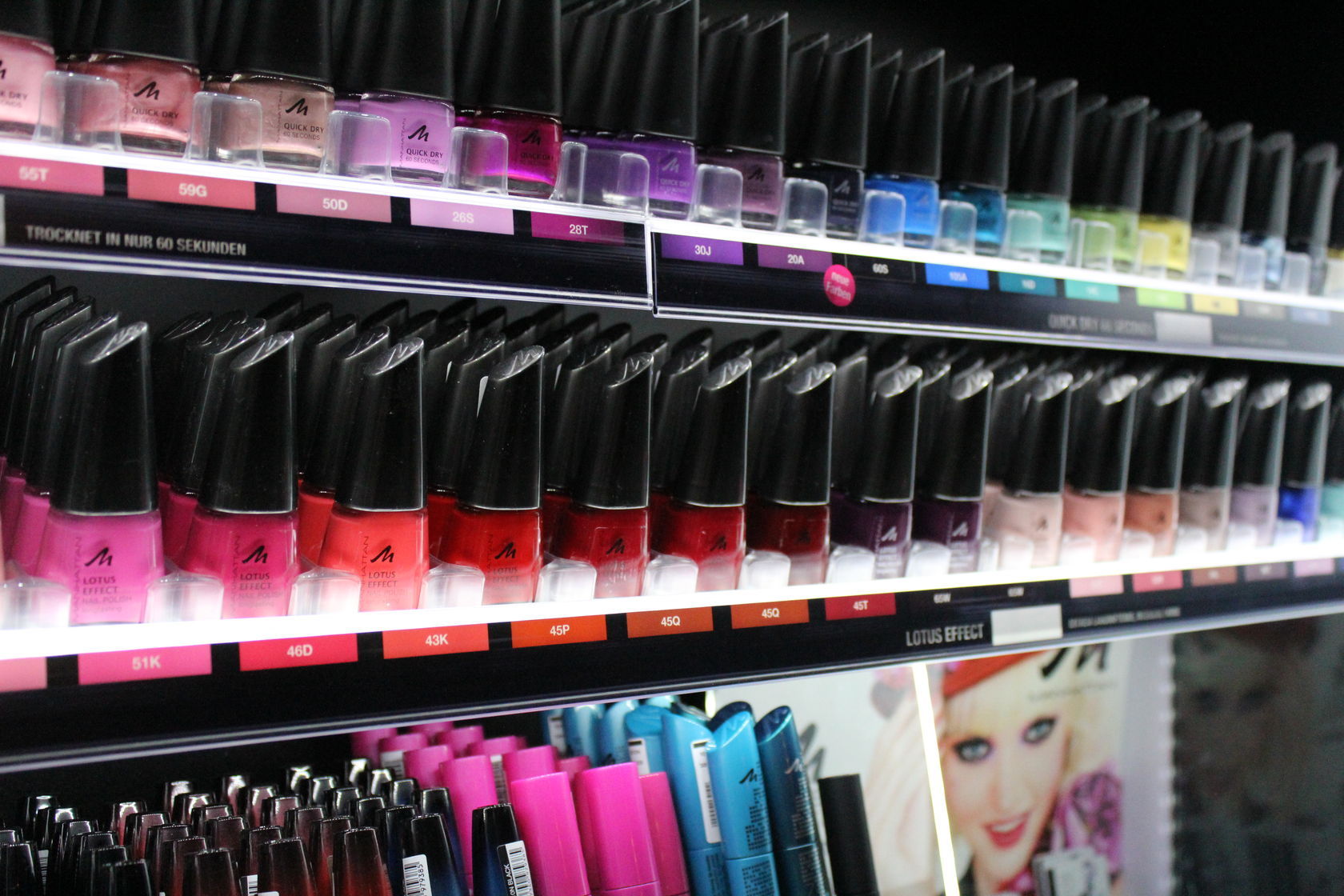 My favourite product must be the eye shadow Duo called Endless Stay Duo Eyeshadow – 4 Strange Nights from the Bonnie Strange collection. It's a creamy finish and very highly pigmented, which is great to create eye catching looks. Plus it last really long! (My skin tends to suck up all make up in matter of hours. We created the look in the afternoon and in the evening I was still good to go without any retouching.)
How to recreate my ME AND MANHATTAN Berlin Fashion Week look:
1. Start by applying the Perfect Smooth Skin Primer on your face to minimize pores. (We didn't use any foundation, because I didn't need any. But that would come after the primer.)
2. Apply the blue eyeshadow to your eye lids. Continue in a fine line like how you'd apply cat wing eyeliner. Then use the yellow eyeshadow as eyeliner under your eyes and continue the line until blue and yellow lines meet. Tip: You might want to want to decide beforehand where you want those lines to meet and mark the spot by looking in the mirror.
3. Eyeliner. Frame your eyes with black eyeliner. Just a thin line on both top lid and bottom.
4. Apply pink rouge to your cheeks and the bronze colored one for highlighting.
5. Eyebrows! We used black eyeliner to fill them in and white eyeshadow below the arch for a cleaner look.
6. Last but not least apply mascara to give your lashes volume.
7. To finish the look use the tinted glossy lip balm and paint your nails.
Congratulations, we now look a like! 😀
Send me pictures if you recreate this look! I'll publish them on my facebook page.
All products we used:
GLOSSY LIP BALM 10A Nude Up!
PERFECT SMOOTH Skin Primer
X-ACT EYELINER Paint It Black 1010N – Waterproof
POWDER ROUGE Tender Touch Pink Hunter 55H
POWDER ROUGE Tender Touch Golden Brown 39W
ENDLESS STAY DUO EYESHADOW Longlasting & Creamy 4 Strange Nights
MULTI EFFECT Eyeshadow 101C Ice Eyes Baby
NATURAL BRONZING POWDER 2
BRONZING CREAM Liquid Bronzer
LOTUS EFFECT Nail Polish 43K
VOLCANO EXPLOSIVE VOLUME Mascara 1010N Black
I was wearing:
Dress I Kleid: Cotton On
Shoes I Schuhe: Zara
Belt I Gürtel: H&M
Necklace I Kette: H&M
And here's the surprise. GIVEAWAY
*Drums roll*
One of you lovely readers has the chance to win this entire pack. Every product we used to create this look can be yours. Here's what you need to do for a chance to win:
1. Follow via gfc or bloglovin
2. Like my page on facebook
3. Leave a comment with your e-mail. If you want you can let me know where you'd wear the look to.
Extra:
1. Follow me on twitter and/or instagram
2. Tweet "I want to win @LisforLOIS ME AND MY @Manhattan_Tweet complete total Look!"
3. Share this picture on facebook
Ends 18.08.13
WINNER HAS BEEN CHOSEN: Julia! You have been contacted.
THANKS MANHATTAN!
Love Lois xxx