Summer is knocking on our doors, because it's just around the corner, which means it's time to get out the sunnies again! After all what is summer without a pair of shades? I have teamed up with MisterSpex to give away 2 gift vouchers each worth 50€.
Below are some of my favourite shades for this season starting with the classic: Ray-Ban Wayfarers. Wether it's black (the ultimate classic), white, tortoise or any other color, Rayban Wayfarers have become a true classic. Its timeless shape and the different finishes allows it to be on trend any season in my eyes. I think you can never go wrong with black.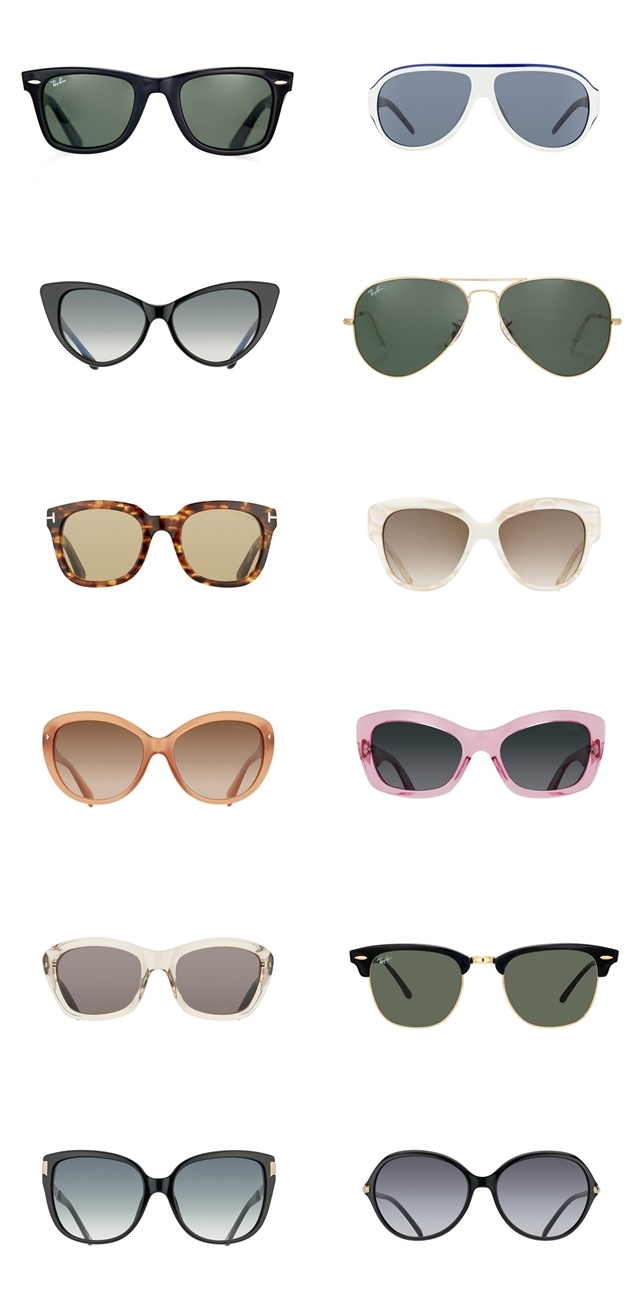 Next to Ray-Bans Wayfarers their aviators are pretty classic. Gold is my preferred color for this season.
Ever since I discovered cat eyed sunnies, they've become my favourite shape. And although they were much hyped last summer thanks to Olivia Palermo or Taylor Tomasi Hill and Tommy Ton's street style photography skills to document the looks, I think they are still pretty on trend this summer for me. Still wishing for my own pair of Tom Ford Anouk!
There was a huge sporty edge on the runway and I think sporty shades would complement that look well.
I find tortoise shades in any kind of shape pretty fashionable. They always have a vintage feel to them.
Pastels. Pastels are a major hit on the runway for this summer, cotton candy pink or pastel orange. Might as well match my shades to my clothes and nail polish.
Lucite. We've been loving lucite wherever it appears on the heels, jewelry, the complete shoe, bags and so on. And sunnies? I think it's interesting that this trend has translated to sunglasses too.
To sum it up: big huge and/or round shades. MY MUST HAVE SUNNIES FOR EVERY SEASON. It's always cool to hide behind big shades 😛
all via MisterSpex
1. Ray-Ban 2. Lacoste 3. Tom Ford 4. Ray-Ban 5. Tom Ford 6. Escada 7. Prada 8. Prada 9. Joop 10. Ray-Ban 11. Escada 12. Ralph


How to enter the giveaway:
1. Be a follower of this blog via gfc or bloglovin!
2. Like my facebook page
3. Go to MisterSpex, choose your favourite sunnies and let me know in the comment box.
Don't forget to leave your email!
Open International! Ends 20.05.2012
Love Lois xxx
follow me on bloglovin, facebook,
twitter and fashiolista.